DJ Ahmed Khan (calendar)



Past Events

Euro Sundays @ The Chelsea Hotel (Atlantic City,NJ)
The Atlantic City metro area's longest running European dance party returns to the Chelsea Hotel / 5th Floor this summer! DJ's Vitalik Kobys (www.djvitalik.com) & Ahmed Khan (www.djahmedkhan.com) keep things moving all summer long with their Sunday Night Euro Parties. Simply put: We play house music--all types from soulful to classics to tech house to electro. We also incorporate R&B into our programing. "The crowd loves it," says DJ Vitalik. "We've been in the game for a long time," adds DJ Ahmed Khan. "We try to cater to all nationalities through their music. One minute you'll be dancing to Ruki Vverh (Russian); next you'll hear David Guetta (France); then you'll be dancing to Sofia Marinova (Bulgarian); Finally you're kicking it to Jay-Z and Tarkan (Turkish). It's quite an experience."
This night is very entertaining especially when we bring our friends in to guest DJ. Perhaps you've heard of some of them: Mike Wright (2 Travelers), David Tobon (Prizm/Futuro Recordings), Todd Gardner (Certified Organik Records/Cerecs Music), Cam Williams, Lili Tobon, DJ Sammy, DJ Venchenco (Bulgaria) and a host of other DJ's.
The doors open every Sunday at 10 pm and close at 5 am. Cover charge is $5 for men. Ladies are free all night. Dress is casual chic. The Chelsea provides an open-air club which is very common in many foreign countries. "Many of our customers have heard about our parties from friends who visited the U.S. the previous summer," says DJ Vitalik. There are weekly drink specials. Must be 21 to enter. Proper ID required. Call (877)211-4001 for VIP reservations and bottle service.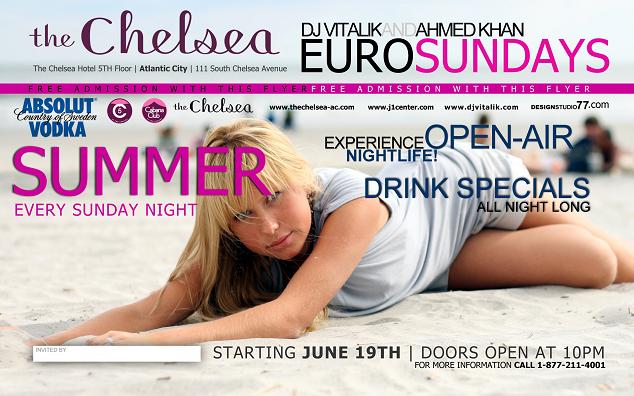 Employee Appreciation Thursdays @ Luxx Lounge Inside the Diving Horse (Atlantic City,NJ)
Luxx Lounge is located inside a multimillion dollar megacomplex that includes: (1) a nightclub, (2) a hotel, (3) a steakhouse, and (4) a gentlemen's club at 9 S. Martin Luther King Blvd.(between Atlantic & Pacific Aves.) in Atlantic City. The sound system and light show is state-of-the-art. DJ's Vitalik Kobys (www.djvitalik.com) & Ahmed Khan (www.djahmedkhan.com) play for the employees in what has become Employees Appreciation Thursdays. Our drink specials are include $5 Stoli Drinks (all flavors), $3 Coronas, $150 bottle service (all Stoli brands). We also offer a hotel room package that can't be beat-for $85 you can rent a room for the night and enjoy a gift bottle of champagne and comlimentary admission to Luxx Lounge! Call 877.211.4001 to book today.
Harrah's Pool Outdoor Deck @ Harrah's Casino Resort (Atlantic City,NJ)
Our next appearances TBA

CASBAH 10 YEAR REUNION PARTY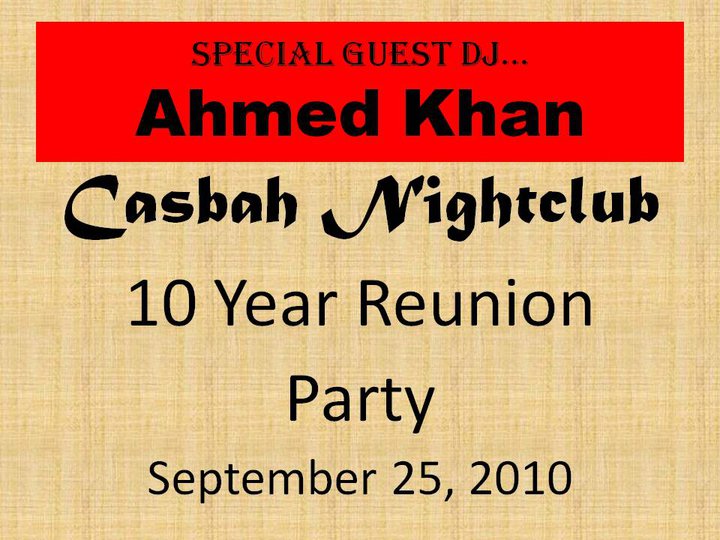 Join me as I return to DJ at the Casbah for the first time in 10 years.
============
In June 1999 I was contracted to DJ at a new nightclub in the Trump Taj Mahal called the Casbah.
What started out as a pretty standard nightclub gig turned into the hottest nightclub in the country.
I DJed there for 6 months. At one point there was a 3-hour wait to get in. It was so bad that the club
set up portable bars in the foyer to service waiting patrons. Join me as I take a trip back through time
from house to techno to hip hop to reggae. This night will be quite entertaining.
HOPE YOU CAN MAKE IT!!!
============
Other DJ's scheduled to appear include Tony Penza, Eddie Edge, ...more TBA
---

Copyright ©2015 by Ahmed Khan All rights reserved. Replication and unauthorized use of content or images strictly prohibited.